Brief introduction:
The intelligent slag removing machine is installed at the end of the roller of the belt conveyor or below the hopper; The screen surface is composed of a lot of stainless steel or polyurethane rollers arranged in parallel. The roller is fixed on the shell through the bearing seat, and the two ends are rotated through the sprocket drive. The rotation direction and speed can be controlled by PLC to achieve the same (or opposite) direction of material flow.
Its power source is K series helical gear reducer on the left and right sides, which is driven in both directions.
In order to prevent materials from jamming the sieve shaft, it is equipped with safety safety device. The whole machine is equipped with a rotating mechanism, which can adjust the Angle according to the needs of the site.
Applicable fields:
◎ solid bulk material separation and impurity removal;
◎ metallurgy, coal, ore, building materials, etc.
◎ conveying equipment in sintering plant, to effectively remove bulk, wire, thread, fabric and other sundries in materials transported by tape, and prevent bulk sundries from winding idlers, cutting belts and entering the next process.
Performance features:
1. Keep the material properties unchanged during the conveying process.
2. The XCZB intelligent slag remover is controlled by PLC. Two sets of driving devices control single and double sieve rollers respectively.
3. It is convenient to set the rotation speed of screen roller by using frequency converter.
4. Bearing with seat sealed bearing, transmission box sealed tightly, dust can not be drilled.
5. No vibration and low noise.
6. High screening efficiency and large production capacity.
7. Adjustable Angle. According to the nature of materials and the requirements of the site, the tilt Angle of the impurity removal screen can be adjusted between 5 and 30 degrees.
8. No blocking or blocking screen. When the above situation occurs, the self-cleaning procedure of the sieve is started, and the debris is removed by adjusting the rotation direction and rotation speed of the sieve roller, and adjusting the inclination Angle of the deduster when necessary.
9. The bearing is equipped with an automatic alarm device. When the bearing is short of oil or the temperature rises, the alarm device will give a warning and timely deal with it.
10. The transmission part is equipped with an alarm device for broken chain.
11. Long service life, convenient installation and simple maintenance.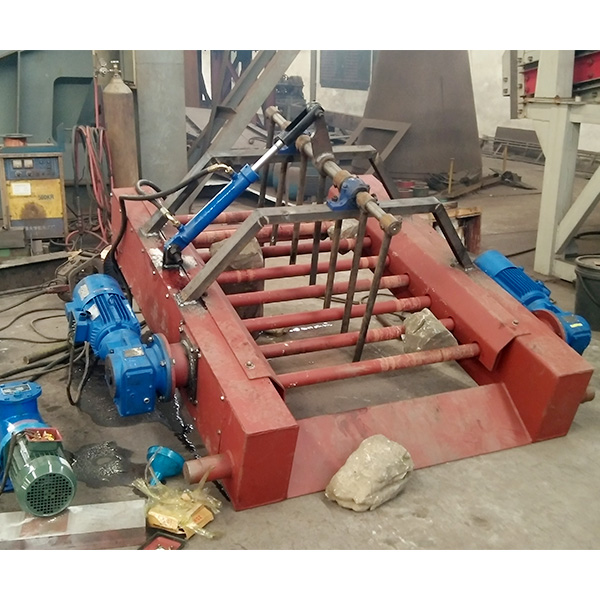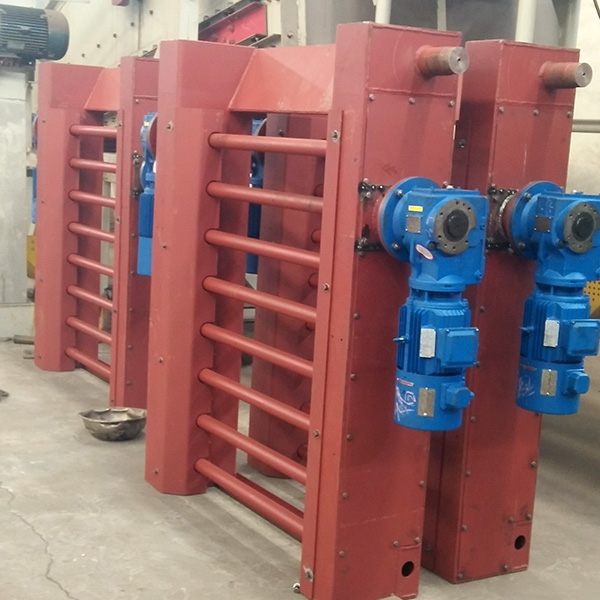 Technical parameters:
Model

Processing Capacity (t/h)

Motor Speed (rpm)

Roller Speed(r/min)

Motor Power (Kw)

Number Of Motors

Under Sieve
Granularity(mm)

Screening Efficiency

Screen Surface
Width(mm)

CZB500

70-200

1500

82

2×0.75

2

User-customize

95%

450

CZB650

120-400

1500

82

2×1.1

9

95%

590

CZB800

200-800

1500

82

2×1.5

2

95%

730

CZB1000

300-1600

1500

82

2×2.2

2

95%

910

CZB1200

600-3000

1500

82

2×2.2

2

95%

1090

CZB1400

800-4000

1500

82

2X3.0

2

95%

1270

CZB1600

2000-5000

1500

82

2X4.0

2

95%

1450

CZB1800

2800-9000

1500

82

2X5.5

2

95%

1630
Patent Certificate: